---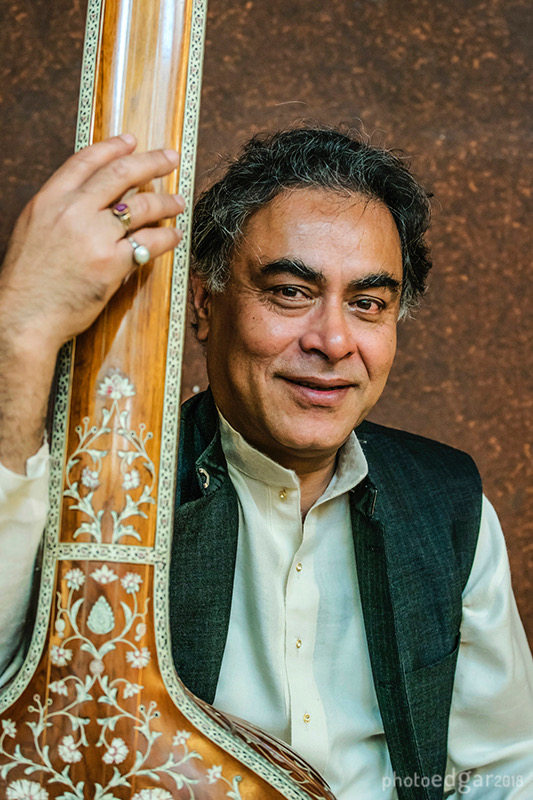 Pandit Nirmalya Dey is a renowned master vocalist and teacher in the tradition of Dagarvani dhrupad.  Inspired by his mother, he started his initial dhrupad training with Prof. Nimaichand Boral, who was a disciple of Ustad Nasir Moinuddin Dagar. From 1988, Nirmalya Dey learned in the true guru-shishya tradition based on the master-disciple relationship, spending extended time with the celebrated dhrupad master, Ustad Zia Fariduddin Dagar.  Nirmalya Dey continued to take advanced training and also regularly performed on the stage with Ustad until he passed away in 2013.  While meticulously maintaining the traditional musical form and its nuances he imbibed from his teacher, who represented the 19th unbroken generation of dhrupad performing family, Nirmalya Dey also evolved his own distinctive style and approach to dhrupad.

Early in his career, Nirmalya Dey's musical prowess was acknowledged as he won the first prize at the National Music Competition organized by the All India Radio in 1979.  In recognition of his excellence and achievement in dhrupad, Nirmalya Dey was awarded the senior fellowship by the Ministry of Human Resource Department, Government of India. He was later bestowed with Top Grade by All India Radio and the national television channel (Doordarshan) for his distinctive musical accomplishment in the dhrupad tradition, and empaneled by the Indian Council for Cultural Relations as a dhrupad performer of the outstanding category.

Pandit Nirmalya Dey is a distinguished artist and has been invited to perform in numerous prestigious festivals and concerts in India and abroad. Beside his solo performances, Nirmalya Dey has adopted the tradition of jugalbandi, the musical dialogue between two musicians of the same genre, and sang with rudra veena maestro Ustad Mohi Baha'uddin Dagar for several concerts.

Despite the demands placed on his schedule as a performer, Nirmalya Dey is a devoted teacher, committed to training the next generation of artists in dhrupad. He has taught at the University of Delhi and Shriram Bharatiya Kala Kendra (Delhi). He also conducts workshops in various countries, including annual workshops in Europe, North America and India. When not performing or teaching abroad, Nirmalya Dey teaches at his dhrupad gurukul in Delhi.
Training and diploma
---
Initial training in Dhrupad received from the late Professor Nemai Chand Boral (Disciple of Ustad Nasir Moinuddin Dagar) from 1975 to 1987
Advanced training in Dhrupad received from Ustad Zia Fariduddin Dagar since 1988
Diploma and Bachelor Degree Sangit Prabhakar (6th year diploma in vocal music) from Prayag Sangit Samiti, Allahabad in 1980
Master in vocal music from Indira Kala Sangit Vishvavidhyalay, Khairagarh in 1991
Awards and fellowships
---
Empaneled with Indian Council for Cultural Relations (ICCR) as a dhrupad singer of outstanding category
Top grade artist of the All India Radio and the national television channel (Doodarshan)
Pandit Vasant Rao Thakar memorial fellowship conferred by Sanskriti Foundation, Delhi (2014)
Senior fellowship from the Ministry of Human Resources Department, Government of India, to learn Dhrupad, from 1996 to 1998
Received Navdeep award from Navdeep Pratishthan, Ahmedabad as recognition of potential young Drupad singer (1993)
Recipient of Surmani title from Surshringer Samsad, Mumbai, for excellence of Dhrupad singing (1991)
First prize in the All India Radio Competition (1979)
---